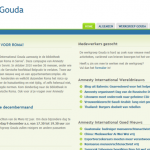 Amnesty International, the fighters for human rights. The large world wide organization is dived in country groups. The Dutch Gouda group wanted an easy to maintain website for some general information and news. Because Amnesty is a charity organization this had to be a budget solution.
The QURL solution
By using the standard Drupal CMS and a standard template the starting costs were low. That made some additional development possible. Also by using already existing RSS feeds from the Dutch National Amnesty website made the website automatically lively.
Amnesty Netherlands decided in 2012 all websites should use the same CMS. Therefor the Drupal website has been taken offline.
Like Dynamic Widgets? Like my FB!
All about QURL