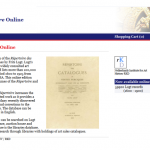 Conversion of the "Répertoire des Catalogues de Ventes Publiques" by Frits Lugt (1884-1970) to an online edition.
The four books (Répertoires) Frits Lugt created are rare and very expensive these days.
The QURL solution
Frits Lugt must have had an insight into the future. The books he created where extremely well structured and organized. Every entry had a number (So called "Lugt number") and every entry had the fields divided into columns. That made conversion to a database model an easy step to take. Understanding the common target user was something completely different. The reviews were outstanding.
See for yourself: http://lugt.idcpublishers.info/
Like Dynamic Widgets? Like my FB!
All about QURL