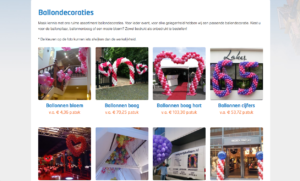 Selling balloons. Not just only the simple ones, but also very advanced balloon decorations. So, just a simpele WooCommerce implementation was definitely not enough.
The QURL solution
As a base we started using WooCommerce. We added an inhouse created wizard system to it based on the WooCommerce properties and variations that can be created from that. That gave the owner of Party Balloon complete freedom in how to design the wizards, which steps and the order of the steps in the complete order process.
Like Dynamic Widgets? Like my FB!
All about QURL