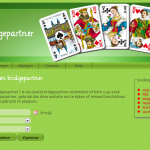 A website for finding bridge-partners (The bridge game that is). Because of the average high age of bridge players, make everything as easy as possible. Take the visitor by the hand.
The QURL solution
A clean and simple search interface for finding a bridge-partner. Creating a request goes in small simple steps. Almost everything is automated. The administrator can manage the site via a self designed CMS.
See for yourself: http://zoekbridgepartner.nl/ (Dutch)
Like Dynamic Widgets? Like my FB!
All about QURL