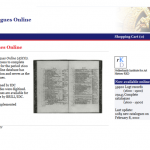 A premium publication platform for art sales catalogues using the metadata from the "Frits Lugt's Répertoire". Because of the large amount of catalogues (about 30.000 and growing) the platform has to be scalable.
The QURL solution
The already structured metadata from "Frits Lugt's Répertoire" was a great advantage. This made adding catalogues extremely easy by just adding the catalogues to the defined folder structure. The application takes care of the everything else by making the catalogue available to the customer.
See for yourself: http://asc.idcpublishers.info/
Like Dynamic Widgets? Like my FB!
All about QURL