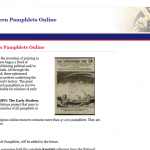 A premium publication platform for a growing number of pamphlets. Currently the counter of pages notes a dazed number of 1.3 million. That makes scalability the number one key. Also the size of the images (facsimile's) is to pay attention to.
The QURL solution
Combining a few earlier done project together. The image solution of Primary Sources Online, the large amount of images solution of Art Sales Catalogues and last but not least the metadata solution of Lugt's Répertoire.
See for youself: http://tempo.idcpublishers.info/
Like Dynamic Widgets? Like my FB!
All about QURL